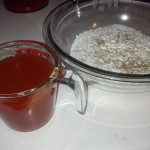 i did an experiment today with the white bread recipe i usually make.  i wanted to make a tomatoey dough with pizza flavors, so i substituted spicy V8 for the milk, olive oil for vegetable oil, and garlic salt for the salt, and added some pizza seasoning to the flour.
the recipe works out like this:
1 c active sourdough starter
6.5 c bread flour
1 c spicy V8
1.25 c water
2 Tbsp olive oil
1 Tbsp garlic salt
3 Tbsp sugar
1 tsp pizza seasoning
pepperoni and mozzarella cheese (optional)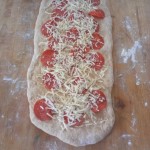 make the bread in the exact same way as the white bread recipe referenced above.  when it comes time to roll up the dough into a loaf, first add pepperoni and cheese, then roll it.  i made one with the filling, one without.
during the first rise which should be 10-30 mins, i think i let it sit for about an hour.  i probably should have shortened it as something weird happened later.  after a proof of about 1.25 hours, which is shorter than usual for this bread, the un-filled loaf got all lumpy and holey.  i didn't notice when this happened, but my guess is that it somehow got over-proofed and started to deflate.
when it came time to bake, the un-filled one took the regular 25-30 mins, but the filled one took much longer to get up to 190-195 degrees.  i probably baked it an additional 15-20 minutes – measuring the internal temperature about every 5 mins.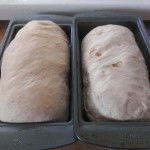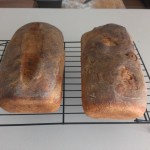 the finished product is more orange colored in the middle with a hint of pizza flavor, but not too much.  i think next time i'll basically add more of the flavorings: pizza seasoning, tomato juice, filling.  i was thinking about trying pizza sauce instead of juice, but would probably need to add more water as well.
haven't tried yet, but i'm guessing this would make a nice grilled cheese with mozzarella and pepperoni…